SINGER/SONGWRITER
JOHN C. MERINO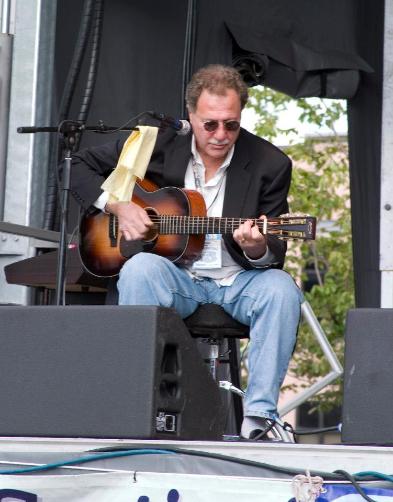 BIOGRAPHY
John has been performing and writing songs for over four decades. In those
years he founded the Cellar Door Coffee House in Hartford, Ct and was host of Folk/Blues programming for WWUH, WBFO, Connecticut Public Radio and WRFA.
As well as performing, John has produced concerts and festivals at ArtPark in Lewiston, New York, The First Annual Moodus Folk Festival in Connecticut and was named Arts Impresario of the Year by the Hartford Advocate Newspaper for his promotion of performing artists.
He has performed on stage with Martin-Bogan-Armstrong, Eric Andersen, Dave Van Ronk, Pat Sky, Rory Block, Artie Traum, Ramblin' Jack Elliott, David Amram, and many more.

Among the cuts included here are three produced by Eric Andersen
featuring
George Kobas on Mandolin, Kim Reeves on percussion, Artie Traum on second guitar and Ann Sheldon on Cello.

They are WORDS: poem by WB Yeats
music by John under license from the Yeats Estate, London.
18th Street (lyrics and music by John) and
Ask a Gypsy (lyrics and music by John).

As well as performing solo, John performs with THE AMAZING DR. ZARCON'S BREATHING MACHINE JUG BAND and their first album (recorded at Levon Helm Studios in Woodstock) was released in 2009.

The songs Potato Boy and Drop Down Mama are from those sessions.
John has also recorded for the Fast Folk label of New York City
and his music is catalogued with the Smithsonian.

His acoustic finger style guitar can also be heard on the new 10,000 Maniacs single "Clouds".
All songs copyright : John C. Merino
Clouds
copyright: 10,000 Maniacs